Recent Court transcripts seemingly identify the current captain of the Genovese crime family crew operating in Springfield Massachusetts.
The Springfield mafia crew has been dismantled from the top down due to recent indictments and convictions. During sentencing of 76-year-old Genovese family capo Eugene "Rooster" Onofrio last month where he was sentenced to 30 months in prison more information was made public. Prosecutors submitted transcripts of a conversation between Onofrio and J.R. Rubeo a mafia snitch discussing mob affairs in Springfield. Rubeo was the key informant in the East Coast LCN case that led to the arrest of 45 members and associate of the New York Mafia and the alleged boss of the Philly Mafia.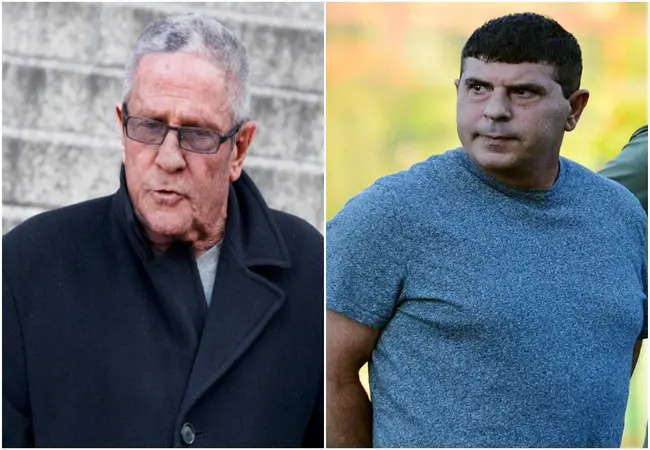 "Eugene Onofrio and Ralph Santaniello"
In the transcript, Onofrio identified himself as the current Captain of the mafia in Springfield. He had already been linked to the Cosa Nostra crew through the testimony of an undercover FBI agent that served as his driver for a time. According to the agent's testimony, he once drove Rooster to a meeting at a pizza shop where he arranged a $30,000 mob loan. He did so with the help of Ralph Santaniello and Francesco "Frank" Depergola both alleged Springfield mobsters.
Both Santaniello and Depergola were caught up in the recent mafia sting along with Rooster and in a separate case with for shaking down a local tow company owner. They are now both behind bars after Santaniello was sentenced to 60 months and Depergola to 38 months. This new evidence from the feds along with other recent reports seemingly shows that Santaniello was likely running the day to day operations along with fellow mobster Albert Calvanese and reporting to their capo Onofrio. At least before he was busted.
Transcript from FBI Wiretap Conversation:
Onofrio: "Everything's shut down."

Rubeo: "He (apparently referring to Danny Leo alleged Genovese family boss) doesn't put anyone up."

Onofrio: "Yeah he does."

Rubeo: "Never."

Onofrio: "I do."

Rubeo: "He don't."

Onofrio: "I already put a guy up from Springfield, Mass. … You know, Springfield was given to me."

Rubeo: "Yeah, you told me."

Onofrio: "I got four, five guys up there. One I love to death."

Rubeo: "Why don't you move me up there? Can I make money?"

Onofrio: (I already got enough guys) "I know he is a gangster, I know he's got balls, he's got heart. He, his name is already in. When they open up, I'm definitely putting him in, because I can't travel from New Haven to Springfield all the time."

 
It is believed that the person Onofrio was referring to as "one I love to death" and had put up for membership was Ralph Santaniello. The undercover FBI agent in the East Coast LCN Case identified the 51-year-old Santaniello as a "proposed member" of the Genovese family in court records according to a MassLive report  by crime reporter Stephanie Barry. The agent also noted that at the time that Rooster said the NY Mafia families books were closed. This all seems to be strongly corroborated by the Rubeo conversation transcripts.
If this new information is accurate then the entire hierarchy of the crew has recently been taken off the streets and it remains unclear as to just how active the historic mafia crew is today. The Genovese family may not be ready to lose their grip on Western Massachusetts just yet but things certainly have taken another turn for the worse.