We take another trip back in time to take a look at some more Mob history this time from the City of Brotherly Love.
The Philadelphia mafia has an extremely colorful past and one of it's more controversial figures was former boss Nicodemo "Little Nicky" Scarfo. During Scarfo's ten year reign the Cosa Nostra family grew in power but his quick temper and love of violence would eventually lead the family to also become highly dysfunctional. In the late 1980s it all came tumbling down as Scarfo and many of the families other top mobsters were indicted. There is some classic footage from the Hezakya Newz & Films Youtube channel of the Scarfo trial which also includes his nephew and former underboss Phil Leonetti and much more.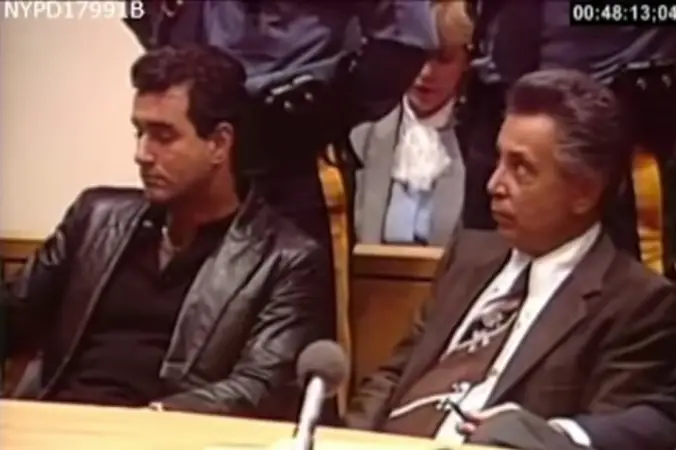 "Philip Leonetti and Nicodemo Scarfo"
Leonetti can be seen sitting alongside his uncle in the courtroom although that quickly changed after he decided to flip. He would eventually cut a deal with the feds in exchange for helping put away Scarfo and 48 other members and associates of the Philly Mafia. As the footage continues we see Salvatore "Salvie" Testa walking alongside Scarfo. Salvie Testa was known as a rising star within the mafia and it would eventually cost him his life. The often paranoid Scarfo would order Testa to be killed fearful that he may become too powerful and would eventually try and take over the organized crime family.
We also get a look back at the Testa funeral along with some news stories covering various aspects of the mafia in Philadelphia at that time. There are some other notable characters within the footage like former wiseguy and Scarfo rival Harry 'The Hunchback' Riccobene. If you keep your eye out here are some additional guys you may also recognize. When it comes to Mob history few families can match the uniqueness that is the Philly Mob.