Joseph "Skinny Joey" Merlino the former boss of the Philadelphia mafia is headed back to prison after being sentenced to 4 months on a parole violation. Merlino now has 30 days to report to prison to begin serving his sentence. He was sentenced at a parole hearing today in Philadelphia for meeting with fellow mobster John Ciancaglini and other felons down in Florida.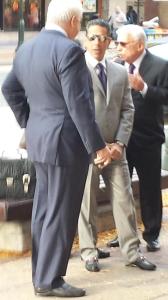 "Joey Merlino outside Philly Court House"
Now after he serves these four months he will come out a free man under no more supervised release restrictions. So the feds win another small victory against Skinny Joey and it will be interesting to see what Merlino does once he is released and off restrictions. Will he go back to Boca Raton and live the good life away from the Philly mob or will he return to Philadelphia and get back into the game?
FOX 29 News Philadelphia | WTXF-TV