Italian authorities now have an updated photo of Matteo Messina Denaro the top boss of the Sicilian Mafia the first such update since back in 2011.
According to Interpol Messina Denaro is one of the top ten most wanted me in the world. New information about the 52-year-old mob bosses appearance was obtained from a mafia informant according to authorities. The informant claims to have had a recent meeting with the fugitive mafia boss and says he has gained weight and his hair remains dark but his receding hair line has advanced and he no longer wears glasses. This information has been used to come up with an up to date computer simulated portrait of what the crime boss now is believed to look like.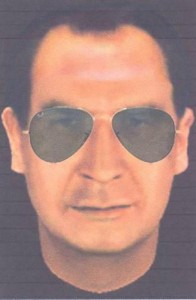 "Matteo Messina Denaro Computer Simulated Photo"
Older Photo's of Messina Denaro show him wearing thick glasses because of a eye illness. A specialists who treated him in the past in Spain confirmed the severity of the illness and says he believes that the crime lord may have gone blind in one eye. This could possibly explain why he is no longer wearing glasses for the condition. Information from other informants have also been trickling in according to authorities due to recent arrests and asset seizures of those close to Messina Denaro. Last December saw 30 people arrested some being relatives of the mafia boss and police reported that they were closer then ever to capturing him.