A massive Mafia operation targeted against the Calabrian Mafia also known as the Ndrangheta leads to over 160 arrests. Over 1000 members of the Carabinieri were involved in raids across the northern regions of Lombardia, Veneto, Emilia Romagna, and Piemonte along with Calabria and Sicily. Franco Roberti the National Anti-Mafia prosecutor called the operation "historic and unprecedented" in the historical fight against the Italian mafia. Among those targeted in the operation was believed to be the powerful Ndrangheta clan of Nicolino Grande Aracri who is currently in prison.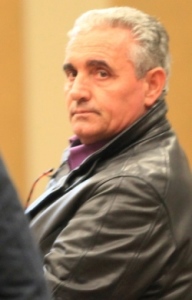 "Nicolino Grande Aracri"
The Bologna based operation lead to arrests of six alleged bosses of semi-autonomous clans according to a report from Roberto Alfonso Bologna's chief prosecutor. Domenico and Ernesto brothers of Grande Aracri were also arrested as part of the mob operation. Those arrested have been accused of various charges including mafia association, illegal possession of firearms, and extortion.