The Calabrian Mafia is also known as the Ndrangheta was the target of a massive mob bust, in which 50 people were either arrested or named for various alleged mob crimes. According to authorities in Italy the investigation targeted some of the most powerful Ndrangheta families and the Ndrangheta elite. The international investigation also included links to the Calabrian mafia in Toronto and Ontario Canada. The investigation focused on key Ndrangheta clans which have influence in Canada, including the Commisso, Crupi, and Aquino-Coluccio clans.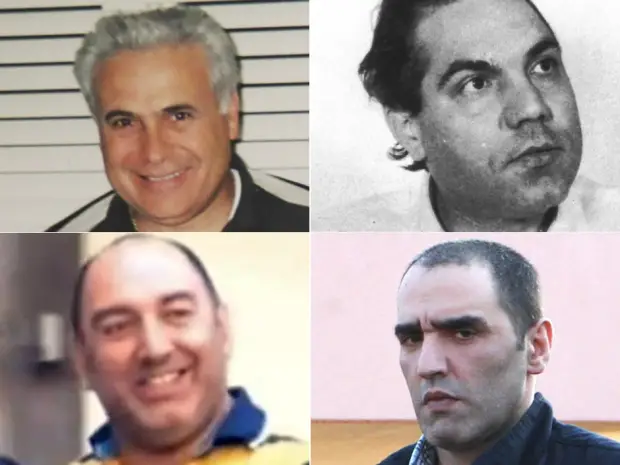 "Clockwise from top left: Carmelo Bruzzese, Rocco Remo Commisso, Salvatore Coluccio and Antonio alleged mobsters with links to Canada"
The mix of these mob clans in Canada are known as the "Siderno Group" and controls mafia territory mainly in the Toronto and Ontario areas. Back in 2010 an investigation into the mafia in Canada revealed the seven main Ndrangheta families operating in the Toronto area each run by seperate bosses. The recent probe in Italy has named four of the seven alleged bosses which include Domenico Ruso, Cosimo Figliomeni, Angelo Figliomeni, and Antonio Coluccio. Also named was Carmelo Bruzzese who was already listed as a fugitive in Italy for mob crimes and currently fighting a Canadian deportation order to Italy.
Also included in the list of wanted men was Rocco Remo Commisso who has long been named as a part of the Canadian mafia. Three brothers who lived in Canada before returning to Italy: Antonio Coluccio, Giuseppe Coluccio and Salvatore Coluccio were also named in the probe. Italian government sources have confirmed the definite links to Canada within the powerful crime family. There have yet to be any immediate signs of any arrest being carried out in Canada as a result of the probe.