When it comes to the Mafia and turncoats the name Tommaso Buscetta should be one that instantly comes to mind.
He was the first important member of the Sicilian Mafia become an informant. He grew up in Palermo eventually finding his way into Cosa Nostra in the late 1940s. He would become a highly respected and influential member of the organized crime family. By the 1980s the longtime mafioso had become disillusioned with the mob and decided to become an informant referred to in Italy as a pentito. In 2015 after searching for two years filmmakers Mark Franchetti and Andrew Meier were able to locate Buscetta's son Robert and other family members that had been in hiding for decades. They wanted him, his mother Cristina, and others to talk about Tommaso on camera in their new Tommaso Buscetta documentary named Our Godfather: The Man the Mafia Could Not Kill.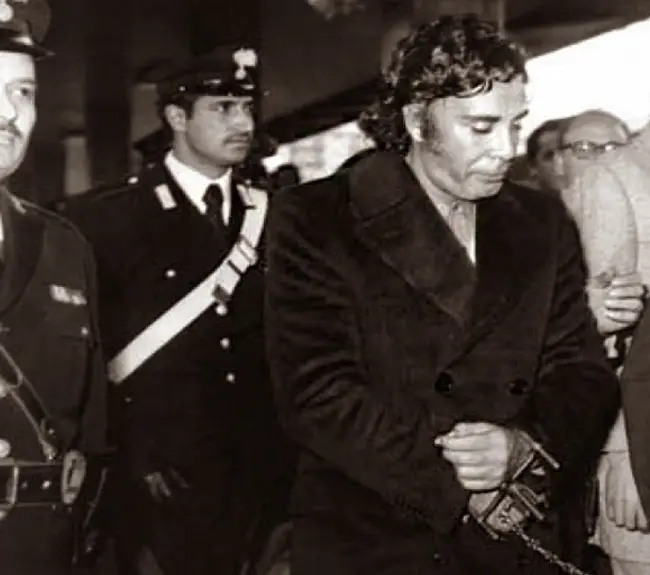 "Tommaso Buscetta"
This was no easy decision for anyone especially Cristina and Robert Buscetta. The mafia had already killed two of Tommaso's other sons, his brother, son-in-law, and four grandchildren. Even though this took place years ago the Mafia never forgets. Roberto told the filmmakers "Killing Tommaso Buscetta's son would be a perfect trophy." But they cautiously agreed to meet and not only did they talk about Buscetta's life but supplied rare photos and videos of the infamous mobster. Franchetti said in a NY Times article "That's when we realized we definitely had a film, a unique and intimate insight into a Mafia don and his family."
An internal mafia war broke out in Italy in the early 1960s which caused Tommaso to flee to America. He would end up in New York under the protection of the Gambino crime family of the New York  Mafia. He got into the Pizza business among other things and lived in New York for several years building ties within the mafia there. During this time he would be convicted of a double murder back in Italy even though he wasn't in custody. He was arrested in New York in 1970 but since Italian authorities had not asked to have him extradited he was set free.
He would flee once again this time to Brazil. He set up and ran a very lucrative drug network before being arrested there in 1972. He would finally be extradited back to Italy and sent to prison for the double murder charges. In 1980 a second mafia war was taking shape which meant more problems. During a day release from the prison, he escaped and went back to Brazil. The war started by the former boss of bosses Toto Riina led to the deaths of many of Buscetta's allies and he seemed to be a likely target as well after being arrested again in Brazil in 1983 and sent back to Italy.
This time around he had decided that his life in the Mafia had come to an end. He asked to speak to now deceased anti-Mafia judge Giovanni Falcone which led to him starting his new life as an informant. He would become a star witness in the famed Maxi Trial the largest anti-Mafia trial in history. It led to indictments against 475 members and associates of the Mafia. He told of the rules in which Cosa Nostra was built on which were never written down but instead passed along orally. He would expose the inner working of the Sicilian Mafia Commission and territorial divisions allowing Falcone and others to strike at the very roots of Cosa Nostra.
But Buscetta wasn't done he would also go to New York and testify in the Pizza Connection case. This led to convictions against seventeen people for their roles in the international drug ring. After helping to put away hundreds of mobster he was rewarded with a new identity and citizenship into the U.S. witness protection program. Tommaso Buscetta would return in the 1990s to give further information about links between the Cosa Nostra and Italian politicians after the 1992 murders of judges Giovanni Falcone and Paolo Borsellino.
In was reported that Tommaso Buscetta had passed away from cancer back on April 2, 2000, at the age of 71. He lived his final days in hiding in New York State. Cristina who was Tommaso's third wife says in the documentary that "For him, breaking omerta was really the hardest decision of his life because he had this sensation that he broke something that was sacred." DEA agent John Huber who had guarded Buscetta said in the film that "It has to be understood that during that period Buscetta was the most important, the most wanted and most endangered witness in American criminal history."
The story of Tommaso Buscetta will forever be a significant piece of Mafia history. Whether he turned on his fellow Mafiosi to save his own life or to seek revenge for his family or both the one time "Man of Honor" dealt the mafia a serious blow. Our Godfather: The Man the Mafia Could Not Kill is currently available on Itunes but will be featured on Netflix in September. The new Tommaso Buscetta documentary certainly seems worthy of being added to our watch lists. It may very well be one of the better Mafia documentaries to come out of late.