Once again we kick the new year off with our annual look at the current Leaders for each of the remaining Mafia families in America.
The present-day Mob families across the country have proven over the years to be both cunning and resilient. They have found a way to remain viable and continue to generate millions of dollars from various rackets both old and new. The various crime families have outlasted the countless stories of their demise that we have seen over the years. About The Mafia has covered a wide range of mafia news over the past year including major indictments, deaths natural or otherwise, changes in leadership, and much more.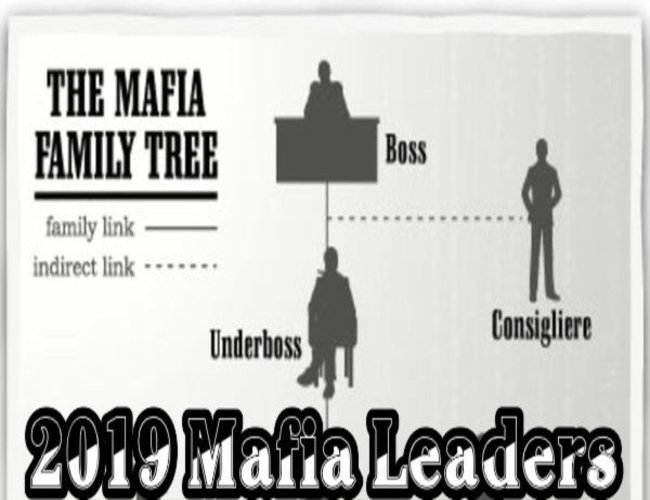 We have compiled a list of the current Mafia bosses and hierarchies for the families which remain active and organized heading into the new year. While lists such as these are far from an exact science we have used various sources in an effort to be as accurate as possible. When it comes to organized crime and especially Cosa Nostra the landscape is constantly changing for a multitude of reasons and there is always room for debate. We try and keep our readers as up to date as possible with all the latest news and developments throughout the year. So here is our list of the 2019 Mafia Family Leaders! If you want an even more in-depth look at the different Mafia families be sure to check out our Mafia Family Charts page.
GAMBINO CRIME FAMILY (NY)
Boss: Domenico "Italian Dom" Cefalu/ Lorenzo Mannino(?)
Underboss: Lorenzo Mannino
Consigliere: Michael Paradiso
Boss: Vittorio "Vic" Amuso
Acting/Street Boss: Michael DeSantis
Underboss: Steven Crea
Acting Underboss: Patrick (Patty Red) Dellorusso
Consigliere: Andrew DeSimone
Boss: Liborio "Barney" Bellomo
Underboss/Street Boss: "Unknown"
Consigliere: "Unknown"
COLOMBO CRIME FAMILY (NY)
Boss: Unknown (?)
Street Boss: Andrew "Andy Mush" Russo
Underboss: Benjamin "The Little Guy" Castellazo
Acting Underboss: Dominick "Donnie Shacks" Montemarano (?)
Consigliere: "Unknown"
Acting Consigliere: Thomas "Mr. T" Farese
BONANNO CRIME FAMILY (NY)
Boss: Michael "The Nose" Mancuso
Acting Boss: Joseph Cammarano Jr.
Consigliere: John "Porky" Zanocchio (?)
PHILADELPHIA MAFIA FAMILY
Boss: Joseph "Skinny Joey" Merlino
Acting Boss/Street Boss: Michael "Mikey Lance" Lancelotti
Underboss: "Unknown"
Consigliere: Joseph Ciangcaglini/Joe Ligambi/Francis "Faffy" Iannarella (?)
DETROIT MAFIA FAMILY
Boss: Jack "Jackie the Kid" Giacalone
Underboss: Anthony (Chicago Tony) La Piana
Consigliere: Anthony (Tony Pal) Palazzolo
Street Boss: Peter (Specs) Tocco
DeCAVALCANTE FAMILY (New Jersey Mafia Family)
Boss: Charles Majuri (?)
UnderBoss: "Unknown"
Consiglieri: Frank "Shipe" Nigro
PATRIARCA FAMILY (New England Mafia Family)
Boss/Acting Boss: Carmen (The Cheeseman) DiNunzio
UnderBoss: Matthew Guglielmetti
Consiglieri: Joseph (Joe the Bishop) Achille
CHICAGO MAFIA FAMILY (CHICAGO OUTFIT)
Acting Boss/Boss: Salvatore "Solly D" DeLaurentis
Underboss: Salvatore "Sammy Cards" Cataudella
Street Boss: Albert Vena
Consigliere: Marco D'Amico
BUFFALO MAFIA FAMILY
Boss: Joseph Todaro Jr. (?)
Underboss: Domenico Violi (?)
Consigliere:  Victor Sansanese (?)
KANSAS CITY MAFIA FAMILY
Boss: John "Johnny Joe" Sciortino
UnderBoss: Peter "Las Vegas Pete" Simone
Consigliere: Frank DeLuna (?)
CLEVELAND MAFIA FAMILY
Boss: Russell "RJ" Papalardo
Underboss: "Unknown"
Consigliere: "Unknown"
For the latest Mafia news and information, you can follow us on Twitter!