Ralph Santaniello one of the new leaders of the Springfield mafia faction controlled by the Genovese crime family was sentenced on Tuesday.
Authorities had been investigating the New York Mafia linked crew for several years and were finally able to make a case back in 2016. Santaniello and fellow mobster Giovanni "Johnny Cal" Calabrese were both in court to find out exactly how long they would be behind bars after pleading guilty in November. Santaniello was sentenced to five years in prison while Calabrese got off a little easier with a three-year bid. The mob crew was charged with various crimes including extortion.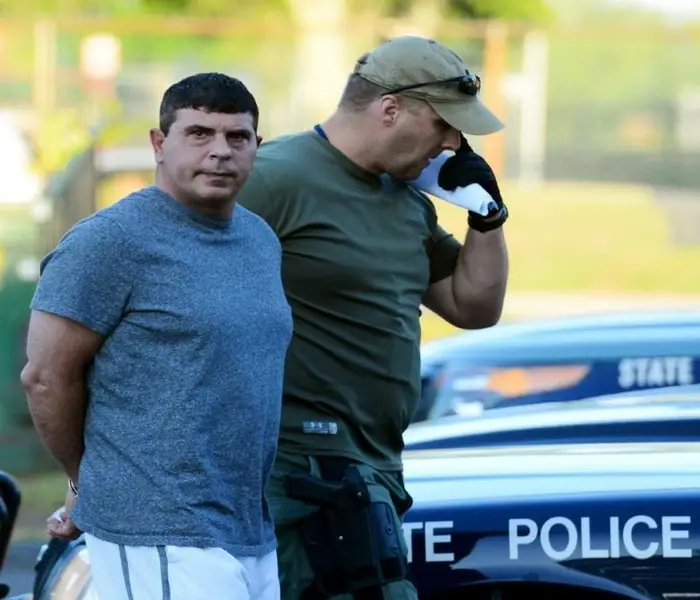 "Ralph Santaniello"
The Springfield mob lost longtime boss Adolfo "Big Al" Bruno back in 2003 and hasn't quite been the same since. But Bruno's death opened up opportunities for potential up and comers and Santaniello seemingly took advantage. A federal prosecutor called Santaniello "the enforcer, the fear, the violence" of the current Springfield Cosa Nostra crew. While defense lawyers tried to play down the violent tendencies unsuccessfully as prosecutors made note of his previous convictions for similar crimes.
One of the main scheme's Santaniello and Calabrese were charged with was the shaking down of a local business owner. The organized crime duo assaulted then threatened to behead and bury Craig J. "C.J." Morel the owner of a towing and scrap metal business if he didn't pay a street tax. Morel said the men terrorized him for several weeks back in 2013. He admitted to paying Bruno a street tax after starting his business back in 2000 but stopped paying shortly before Bruno was murdered. He ran his company independently and stayed away from the mafia until 2013 when the new Springfield crew came calling.
Morel said he first met Ralph back in 2000 when he came to his tow yard looking for a car that belonged to an exotic dancer. Morel said in a statement that "I was told that his father was an organized crime captain and to steer clear of him, which I did for the next 14 years." This was in reference to Ralph's father Amedeo Santaniello who was once Bruno's right-hand man. Then the mobster showed back up again in 2013 Morel added saying "Ralphie came to my land with his crazy eyes, loud mouth and yelling in broken English … like we were in a TV show. But I knew this wasn't a set of a movie."
Prosecutors pushed for a sentence of approx six and a half years for Santaniello pointing out that he continued to commit these crimes and was unrepentant. Ralph has been held without bail since his arrest in 2016 but Calabrese was out on bail so he will be expected to turn himself in by May 21st according to reports. The remaining members of the NY mafia linked crew Francesco "Frank" Depergola and Richard Valentini are set to be sentenced on May 11th. Fellow mobster Gerald Daniele has already been sentenced to two years behind bars.  Will be interesting to see what kind of impact this has on the Genovese family influence in the area and whether or not this is the end of the Springfield mafia.