Settimino Mineo the new boss of Italy's Sicilian Mafia and more than 40 other alleged mobsters were busted during a recent Mafia raid in Sicily.
Mineo now 80 years old has been a member of the historic mob family for decades and has had previous run-ins with authorities. He and his fellow mobsters now face various charges including mafia association, arson, extortion, and possession of weapons. According to the police Mineo was behind an effort to rebuild the mafia families ruling panel known as the "cupola" in order to strengthen the organized crime families power and standing.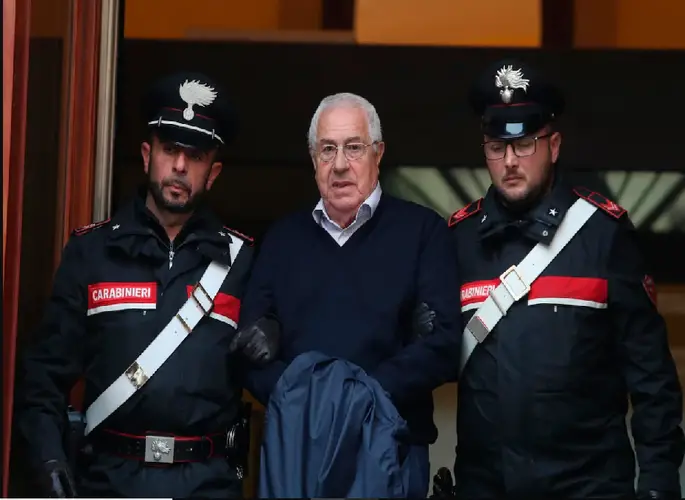 "Settimino Mineo"
The first meeting of this new Sicilian Mafia ruling panel was held back in May and Mineo was officially elected to be the new boss of bosses according to authorities. They were able to obtain information on the meeting by wiretapping the phones of various participants including mobster Francesco Colletti a senior member of the organization. In one of the wiretapped conversations, Colletti was captured telling his driver "a beautiful meeting, very serious, with country people, old people, At the end of discussions, "we all got up and kissed."
Deputy Prime Minister Luigi Di Maio "The arrests … represent one of the biggest blows inflicted on the mafia by the state. Mineo had been elected 'heir' of Toto Riina after his death. There is no more room for this type of scum in Italy." Mineo's appointment to head Cosa Nostra was historic because it shifted the organization's power base away from the hilltop town of Corleone. The town was made famous in the Godfather movies and books and had served as the mafia families base of operations for years.
The arrest of former boss Toto Riina ended his bloody reign of terror that had lasted for years and marked the beginning of a period of decline for powerful crime group. Riina's brutality included the murder of anti-Mafia magistrates like Giovanni Falcone forcing the state to wage a war against the Sicilian Mafia decimating much of its ranks. Cosa Nostra was once Italy's most powerful criminal organization but has now fallen behind the rapidly growing Calabrian Mafia also known as the Ndrangheta.
The Sicilian Mafia has been steadily trying to rebuild its ranks ever since in an effort to reclaim its standing although it now seems those efforts have taken a hit. But Matteo Messina Denaro another powerful mafia boss within Cosa Nostra was not among those arrested. Even though he has been on the run since 1993 he remains a very powerful force within the organization was considered by many to be a candidate to take over as the next boss of the Sicilian Mafia. The arrest of Settimino Mineo may lead to him being in the next man up to take control.