The long-awaited mob movie The Irishman has finally wrapped filming and according to the teaser trailer from Netflix is set to it theaters this fall.
The new mafia movie directed by Martin Scorsese is based on the Charles Brandt book I Heard You Paint Houses. It tells the story of a former union official and mob hitman Frank Sheeran who claimed on his death bed to have killed Teamster leader Jimmy Hoffa in 1975. Sheeran had links to the mobsters including the Bufalino crime family and was allegedly directed by members of the Mafia to kill Hoffa. The movie is packed with plenty of star power that includes Robert De Niro, Al Pacino, Joe Pesci, and Harvey Keitel.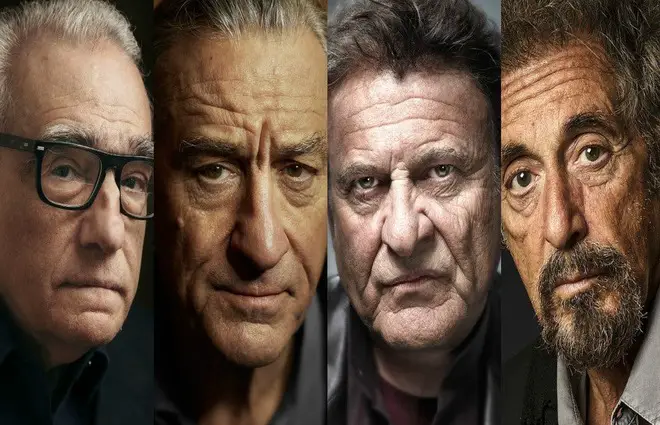 According to Brandt's book, Sheeran claimed that Hoffa was picked up from the Red Fox restaurant in Detroit by his adopted son Chuckie O'Brien. He claimed that himself, Hoffa, and fellow mobster Sal Briguglio were all driven by O'Brien to a house just minutes from the Detroit restaurant where Hoffa thought he would be meeting Detroit mafia street boss Anthony "Tony Jack" Giacalone and Genovese family captain Anthony "Tony Pro" Provenzano for a sitdown. O'Brien and Briguglio left as he and Hoffa entered the house he shot Jimmy twice in the back of the head. Authorities have been unable to connect Sheeran to the Hoffa murder through DNA testing of blood found at the alleged location or any other means to date.
While Sheeran's story is dismissed by most historians, the feds, and Hoffa experts it should make for a very interesting movie. One thing is for sure when it comes to mafia movies this show is filled with acting royalty! The Irishman is already on plenty of must-see lists as it should be and hopefully, it makes it debut on time and doesn't disappoint. There should be an exact release date coming soon from Netflix. When it comes to 2019 Mafia movies this one may prove to be the cream of the crop.