The Irishman the latest mafia movie from director Martin Scorsese is set for an Autumn 2019 release.
The movie will reportedly be available on Netflix for streaming and have a limited cinema release. The new movie features a star-studded cast including Robert De Niro, Al Pacino, Joe Pesci, Harvey Keitel, and Ray Romano among others. It will be the ninth collaboration for Scorsese and De Niro and it could be another home run. The film tells the story of Frank 'The Irishman' Sheeran and is based on the book I Heard You Paint Houses by Charles Brandt. While there is no official release date yet there has already been speculation that it could hit screens in October.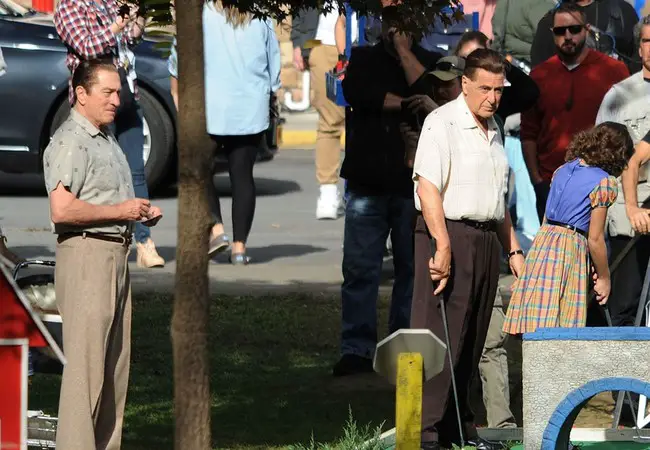 "De Niro as Frank Sheeran and Pacino as Jimmy Hoffa on the set of The Irishman"
Robert De Niro takes on the role of former union official and alleged hitman Frank Sheeran with Joe Pesci playing infamous crime boss Russell Bufalino. Pacino will play the part of Jimmy Hoffa with Romano taking on the role of Bill Buffalino. Sheeran claimed on his death bed that he was the one that murdered former Teamster leader Jimmy Hoffa according to Brandt his former lawyer. The long-anticipated mafia movie tells a story in which many historians and mafia researchers question and aren't totally in agreement with.
During last years Marrakech Film Festival Scorsese called The Irishman a risky film saying "People such as Netflix are taking risks. The Irishman is a risky film," he said. "No one else wanted to fund the pic for five to seven years. And of course, we're all getting older. Netflix took the risk." Since the film cover approximately a 30-year timeline Scorsese decided to employ the use of a special type of de-aging VFX. This technology has been used by Marvel in several movies now including most recently Captain Marvel.
When talking about the use of the VFX technology over the old school method of simply casting various characters to play the roles throughout time De Niro said "They're trying to really make it the best it's ever been," the actor said. "What I've seen looks really good." The highly anticipated 2019 Mafia movie could prove to be not only the best movies about the Mafia this year but one of the best overall. Below it The Irishman teaser trailer!