Francesco "Franky Boy" Cali an alleged leader in the Gambino crime family has been laid to rest after being gunned down in front of his home in Staten Island.
The murder of the 53-year-old wiseguy was not believed to be mafia related and the suspected shooter Anthony Comello is now in custody. Cali was a rising star within the New York Mafia who was known for his old school low key way of doing things. He had strong ties to both the Gambino's as well as Italy's Sicilian Mafia. His death is no doubt a huge loss for the Gambino family who now has to move on and replace a key member of their hierarchy. Exactly where Cali ranked within the crime families administration is somewhat unclear although there is already plenty of speculation as to who could fill his shoes including veteran mobsters like Lorenzo Mannino.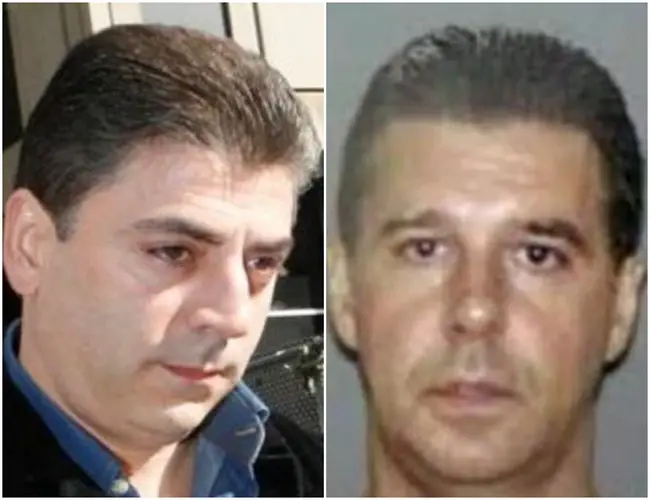 "Frank Cali and Lorenzo Mannino"
According to some unconfirmed reports Cali took over as acting boss for Domenico "Italian Dom" Cefalù back in 2015. Cefalu and Cali are both part of the families powerful "Zip" or Sicilian faction. But various other sources believe that Cali could have remained underboss or even held the rank of consigliere. The new low key approach by the Gambino family leadership has been successful of late at keeping most everyone guessing as to exactly who holds what post. Regardless of official rank, he was certainly one of their most respected leaders and an important part of the families future.
Among the names being tossed about that could step in and fill Cali's shoes as mentioned above is Lorenzo Mannino and for good reason. He is a member of the families Sicilian faction once working under now-deceased mobster John Gambino. While some believe Mannino may already be part of the families hierarchy according to information from "Project OTremens" Mannino is identified as a highly respected captain of what is believed to be a Brooklyn crew. With the Sicilian faction seemingly still calling the shots, he would seem to be a prime candidate so his status may soon change officially.
Another popular name amongst the recent conjecture has been Gene Gotti who was recently released from prison after doing 29 years on drug charges. What would a Gambino family rumor mill be like without a Gotti being tossed into the mix? While there is no doubt that Gene is highly respected it's still unclear as to whether or not he is even still involved and not simply happily retired at age 71 enjoying life with his family. Added to the fact that he is still on paper and the feds are most certainly watching his every move. So it seems extremely unlikely that he would be in a position to take on this kind of role and he may not even want to.
Dominick Cefalu the brother of Domenico and an alleged captain in the family could also be a possibility. His name is seldom seen as he like his brother keeps a very low profile but he would seem to be respected enough for a more prominent role and his family ties to the top couldn't hurt. Sometimes guys getting bumped up into administration roles has more to do with factions and family harmony as it does anything else. Maybe the Sicilians aren't still in the position of power that they seem to be. If so than perhaps someone from the non-Sicilian faction gets moved up the ladder.
If so perhaps the Corozzo's will once again play a role in the Cosa Nostra families leadership structure. Former acting boss Nicholas "Little Nick" Corozzo is scheduled to be released from prison in March of next year. His brother Joseph "Jo Jo" Corozzo who once held the position of consigliere could also be in the mix although its unclear as to what either's current status is today. They would most certainly have the backing of some captains like Leonard "Lenny" DiMaria. It could also be possible that DiMaria who has been a close associate of Little Nick's for years could himself get moved up out of respect for his standing.
There may also be some new blood among the ranks that we are still unaware of poised to take a leap. I am sure there will be other names included as various other sources and mafia experts weigh in. It will interesting to see not only how the void gets filled but also the effect if any that may arise from the loss of Frank Cali.