Francesco Del Balso a reputed former captain in the Rizzuto crime family is set to be released from prison after serving two thirds of a 15 year sentence.
Del Balso was convicted of gangsterism, drug trafficking, and other mafia related crimes back in 2008 during Operation Colisée. According to Canadian authorities he was one of the six main Montreal mafia lieutenants taken down during Operation Colisée and was responsible for generating millions of dollars in profits for the Rizzuto family. He will be relocated to a half way house until commissioners decide exactly when he can return home.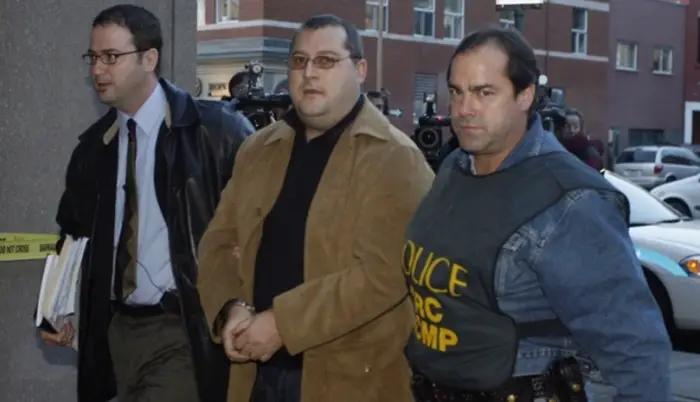 "Francesco Del Balso (center)"
Upon his return Del Baso will face some rather strict parole conditions until the end of his sentence in 2019. These strict regulations were put into place because of his extensive criminal profile in the mob according to commissioners who issued an eight page decision. They stated that the defendant's profile clearly indicated he had a clear disregard for social values and was entrenched with criminal values. Some of the many restrictions issued as part of the mobsters release were an inability to consume any drugs or visit casinos along with having to avoid anyone believed to have a criminal record or linked to such activities.
Del Baso was a key member of the Montreal mob and part of the group which included Francesco Arcadi and Lorenzo Giordano two fellow high ranking Rizzuto family mobsters. Giordano has recently been released from prison and Arcadi's release is now imminent. Many mob insiders and law enforcement sources believe they may be in line to take back control of the mafia in Montreal. The recent arrest of reputed Montreal mafia leaders Stefano Sollecito and Leonardo Rizzuto have seemingly left a power void atop the reorganizing Rizzuto family. Arcadi according to reports, had already made clear his intentions to take his place back at the top of  the mafia family upon his release and some believe Giordano, one of his loyal lieutenants is a leading candidate to move into a leadership position currently.