Prosecutors accused Joseph Cammarano Jr and John Zancocchio of being leaders in New York's Bonanno crime family.
They were indicted on racketeering and conspiracy to commit extortion charges. After a two week trial, both alleged mobsters were found not guilty by a jury in Manhattan federal court. Prosecutors claimed that Cammarano also known as "Joe C" was the acting boss of the Bonanno family and that Zancocchio also known as "Porky" was the current consigliere but were unable to make their case. Lead prosecutor Gina Castellano said in her opening statement that these men "worked together and with other members of the mob to commit crime after crime — extortion, loan-sharking, drug dealing, assault, and fraud." She described the defendants as violent mobsters "who took whatever they wanted from whoever they wanted through intimidation, through threats and violence."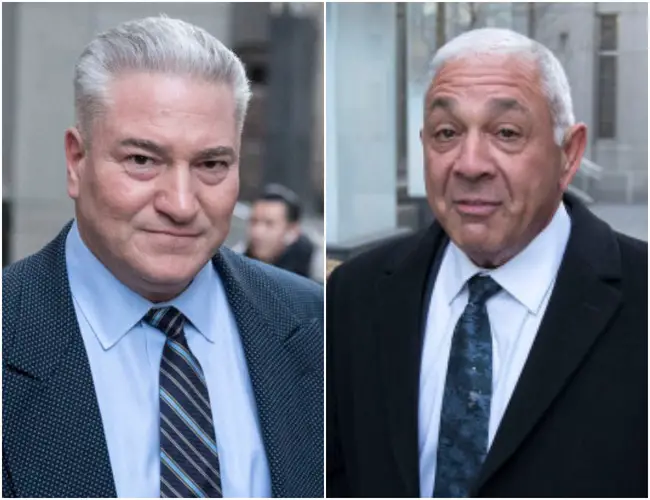 "Joseph Cammarano Jr and John Zancocchio"
The defense claimed that their clients were unfairly profiled because they were Italian and that the Mafia no longer existed. Joe C's lawyer said her client merely looked like he stepped out of central casting in a mob movie but that didn't make him an actual wiseguy. Prosecutors presented evidence to the contrary which they believed proved that Cammarano and Zancocchio profited from the Cosa Nostra families rackets that included loan sharking, extortion, and much more.
Prosecutors were also armed with testimony from two Bonanno mobsters turned rat former captain Peter Lovaglio and associate Steven Sabella. But in the end, it wasn't enough to convince a jury that either defendant was guilty of the crimes they were being charged with or that they were members of the New York Mafia. Another of Joe C's lawyers said "the verdict is apparently the result of the government bringing a case without any credible evidence. We believe this is a just verdict and the jury was one of the most attentive juries that I've ever seen. From the opening and to the summation, they took very diligent notes, and we're just very satisfied."
This was definitely another setback for the feds in their fight against organized crime in New York. With alleged Bonanno family boss, Michael Mancuso back on the streets which was (detailed in a separate article here) the family seemingly has its complete hierarchy on the streets for the first time in years.