The latest New York mafia bust targeted members of the Lucchese crime family including the families current hierarchy.
Nineteen mobsters and associates including alleged acting street boss Matthew (Matty) Madonna, underboss Steven (Stevie Wonder) Crea Sr., and consigliere Joseph DiNapoli were arrested. They were hit with a slew of racketeering charges including the murder of former Purple Gang leader and NY Mafia associate Michael Meldish. According to the indictment Madonna, Crea Sr. and his son Steven (Stevie Junior) Crea Jr. are charged with ordering the 2013 hit on Meldish. At a bail hearing in June, prosecutors described Crea Jr. as a powerful captain who supervised two crew members soldier Christopher Londonio and associate Terrence Caldwell in the murder of Meldish.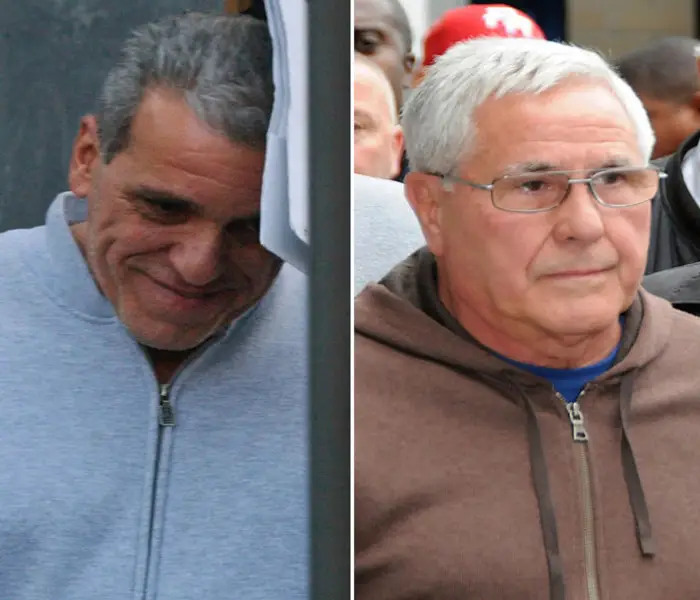 "Steven Crea and Matthew Madonna"
During the bail hearing, prosecutors also made note of a key witness who's undercover work was a crucial part of this massive indictment against the Cosa Nostra family. According to a Ganglandnews report, the witness is believed to be a turncoat mob associate named Robert Spinelli. According to sources he had been working for the feds since 2012 and recorded hundreds of conversations with Lucchese family mobsters and could testify to first-hand knowledge that Crea Jr was personally involved in planning the Meldish murder. The former Purple Gang leader feel out of favor with Lucchese family leaders and was ultimately killed because he was viewed as being a liability to the family. Spinelli at one time served as a messenger for boss Vic Amuso which garnered him access to high ranking members of the organized crime family before falling out of favor due to his prolonged drug abuse according to gangland sources.
Spinelli was part of a five man hit team back in 1992 tasked with killing the sister of a turncoat mob capo Peter (Fat Pete) Chiodo in an effort to convince him not to testify against Amuso. The hit failed but the attack on the mother of three and an innocent family member marked a low point in the history of the American mafia. Prosecutors noted this attack along with the attempted murder of Chiodo at Crea Jr.'s bail hearing in an effort to prove the Lucchese families violent nature and history made them a threat to witnesses. They also stated they had evidence that Crea Jr had also supervised a plot to kill a Bonanno family associate who had disrespect his father.
Although Crea Jr has no prior arrest his actions established that he was a danger to the community and he should be detained claimed prosecutors. The judge agreed and the previous ruling to deny the Younger Crea bail was upheld. It will be interesting to see what other information Spanelli has provided the feds with against other key mobsters involved in this case.