Hundreds of people showed up to pay their respects to former Montreal mafia leader Rocco Sollecito as he was laid to rest. Sollecito was the latest victim of the ongoing bloody Montreal mafia war which remains unsettled.
It seems the old guard which sat atop the Rizzuto crime family and controlled the mafia in Montreal for so many years is being systematically eliminated by a new aspiring leadership group. It's still unclear as to who exactly is behind the move on the Rizzuto family and its loyalists but they seem to be the much stronger group at this point taking out various members of the old Montreal mob hierarchy.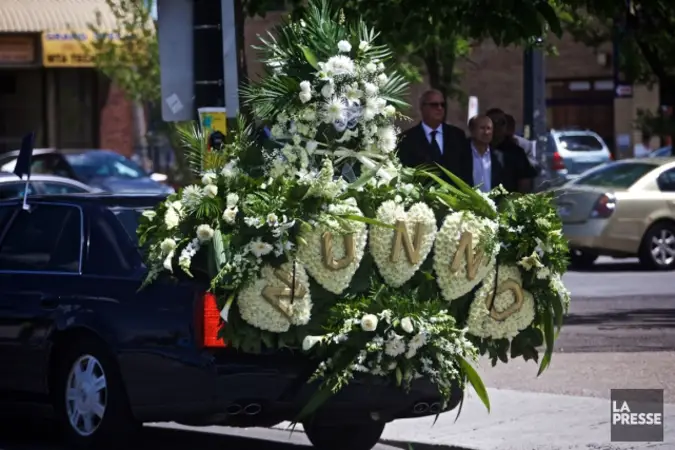 "Rocco Sollecito Funeral"
The murder of Sollecito took place only months after the murder of Lorenzo Giordano another leading member of the old Rizzuto family leadership. Both mobsters were seen as leading options to step in and take control of the Montreal mafia after the arrests of newly crowned mafia bosses Stefano Sollecito and Leonardo Rizzuto. Stefano and Leonardo sons of both Rocco and Vito Rizzuto were said to sit atop a recently formed "leadership table" of the mob in Montreal before their arrest. Rocco acted as a counselor to the new leaders and Giordano who was recently released from prison had expressed his intentions to step back into the leadership fold.  It's believed by mob insiders and authorities that this leadership table may have already met its end.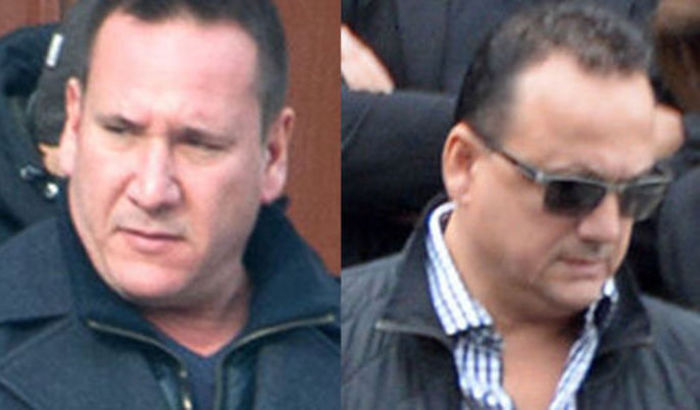 "Leonardo Rizzuto and Stefano Sollecito"
Another murder has taken place which police believe may have been a misidentification targeting another Rizzuto family loyalists Carmine Antonio Vanelli. Authorities believe an innocent man who was believed to be Vanelli was mistakenly murder by assassins at a local cafe. Vanelli was associated with the Calabrian mafia clan in Montreal but rallied to the side of the Rizzuto family when they took control of the mafia in Montreal back in the 80s. This is yet another sign that the bloody Montreal mafia war is still unsettled even after the Sollecito murder. Many people including authorities believe Francesco Del Balso another former Rizzuto family leader could be next on the execution list.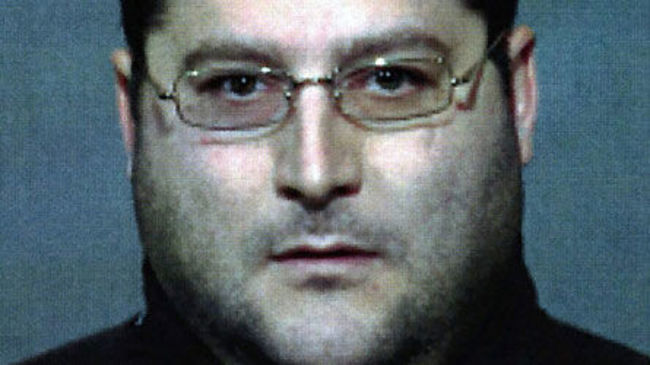 Del Balso is currently fighting for his release from prison and says he doesn't believe his life is in danger even though many of his former mafia associates have been killed. He was released back in February after being granted statutory release under strict conditions but was returned to prison after the murder of Giordano. Parole board feared for his safety and suspended his release along with that of fellow mobster and associate Francesco Arcadi who may himself be a target. All three men were arrested in Operation Colisée which took down multiple Rizzuto family leaders back in 2006. Del Balso was a trusted and respected member of the leadership group that took over after the arrest of then godfather Vito Rizzuto.
Del Balso told the Parole Board of Canada that he wants to be released as scheduled and was not concerned for his safety. The parole board was reviewing his request and decided in a hearing that he could be released although the murder of Sollecito the very next day put things back in limbo. It's currently unclear as to where Del Balso is currently and there have been no response from the Correctional Service of Canada to inquiries as to his status and it's possible he may be on the verge of being released to a halfway house or perhaps moved back into a secure prison location. One thing seems clear the assault on those that remain from the old Rizzuto family hierarchy is still ongoing and even though they are clearly losing the war its still not over.
Who is next in line to take control of the turbulent Montreal underworld is yet unknown but organized crime especially the mafia seldom stays leaderless for long. Could a new consortium have been formed between the aspiring new Montreal mafia leaders, bikers, and street gangs? Could the Calabrian Mafia or Ndrangheta have been behind these attacks once again making them the dominate Montreal mafia force?