Montreal mobster Vittorio Mirarchi the former protege of Raynald Desjardins has been released from prison.
The 40-year-old Mirarchi was arrested along with Desjardins and others back in 2011 for the murder of fellow wiseguy Salvatore Montagna. He pleads guilty to a lesser charge of murder conspiracy in 2016 and was sentenced to nine years in prison but after being credited with time served he had only four and a half months remaining. According to authorities Vittorio and his organization were suspected of being major cocaine importers and he is considered to be a very influential mobster highly respected by Desjardins and others. There are reports from some law enforcement sources speculating that he could become the next Godfather of the Montreal mafia.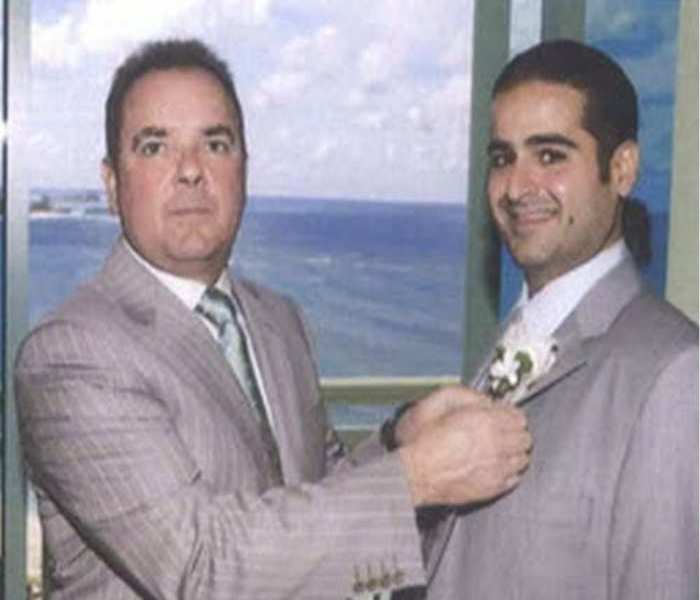 "Raynald Desjardins and Vittorio Mirarchi"
It seems Montagna a former leader in New York's Bonanno crime family who was deported to Canada had originally teamed up with Desjardins in an effort to take control of the Montreal underworld in 2011 from the Rizzuto crime family. A bloody internal war had left the Rizzuto family vulnerable and Montagna along with Desjardins and possibly Joe Di Maulo made a move to solidify power with the possible backing of the Ndrangheta. But their alliance was short-lived after Desjardins suspected that Montagna was behind a failed assassination attempt prompting him to strike back. This Montreal mafia war also grabbed the attention of local law enforcement who found a way to intercept text messages between members of the mafia clan. Among those messages was a plot between Desjardins and Mirarchi to strike back and take out Montagna who was eventually found murdered in late 2011.
While Mirarchi was waiting to be sentenced on the murder conspiracy charge the Clemenza investigation into drug trafficking came to an end taking down some high ranking mobsters including Liborio Cuntrera and Marco Pizzi. According to reports, Mirarchi avoided being charged because he had initially been charged in Montagna's death. The case eventually broke down in part due to the stunning victory scored by Mirarchi's lawyers. They moved to have the RCMP reveal the investigative techniques used in intercepting millions of encrypted text messages sent through the dozens of Blackberrys used by the suspects. The case was built on this evidence but the Crown was unwilling to divulge how the RCMP intercepted these messages and their stance led to charges being dropped against many of the defendants.
There has been a recent lull in the bloody Montreal mafia war which some fear could come to an end now that Mirarchi has once again gained his freedom. The Sicilian based Rizzuto's have been crippled and the mafia in Montreal remains without a leader and has taken on a different structure for the time being according to reports. It seems that now both Calabrian mafia and Sicilian mafia clans are both doing business in Montreal although any current alliances may be short-lived due to the fragile state of affairs. Operation Magot-Mastiff took down both Leonardo Rizzuto and Stefano Sollecito who were believed to have taken the reigns of Montreal mob after the death of Vito Rizzuto. Since their arrest authorities have had no other indication of any new leader(s) standing out ready to take the reigns or any formal alliance leading to a truce.
Even though some law enforcement sources believe this recent lull may have allowed the Rizzuto-Sollecito clan to strengthen some it remains unclear if a new leader can emerge from their organization. So could Mirarchi step in and fill the void and bring together both the Calabrian and Sicilian factions in addition to working with other powers like the Hells Angels in a peaceful way? Or could he be a potential target for reprisal from the re-organizing Rizzuto-Sollecito faction? The Quebecker with Calabrian origins is said to have strong support from Ontario so it will be interesting to see what impact his release now has on the situation in Montreal. There are still more questions than answers and it remains uncertain as to whether or not we are finally at the end of the conflict.